Looking for ways to keep Christ in the gifts you purchase for your children and others this Christmas - here are a dozen ideas for Catholic gift ideas that your kids will love!
1. This has to be the most adorable little gift for a Catholic baby that I have ever seen. I so wish we had one of these when my children were small. This
Baby Rosary, Plush Bright Colored Single Decade with EVA Teething Cross Purple
is just perfect for snuggling your little one and praying the rosary! What a great gift for a baby shower as well!
2.
My little guy started pretending to celebrate Mass when he was under 2 years old. Again, I sure wish this was around then. This plush
My Mass Kit
is a perfect way to teach the littlest ones in your family about the Mass - best of all - the children can bring them to Mass without disturbing anyone.
3.
St. Joseph Rattle Board Books
would make adorable stocking stuffers or baby shower gifts. These little board books feature a built in rattle and colorful illustrations on various aspects of our Catholic faith. Books in the set include "Let's Go to Mass", "Angels Surround Us" and "Saints Teach Us." A great way to occupy little ones at Mass!

5.
Our favorite faith-based Christmas gifts when our children were small were Nativity sets that they could play with. Watching the kids act out the first Christmas and role play being "Mary and Joseph" was priceless.
(The bonus was that once they had their own nativity set they no longer wanted to play with our less - ahem - child friendly Olive Wood from the Holy Land nativity!)
The two sets that we gave to our children when they were younger were the
Fisher Price Little People Christmas Story Nativity
and the
Playmobil Christmas Manger
.
6.
The
Saints Memory Card Game
makes a great stocking stuffer or gift for a classroom grab bag. A perfect way to have fun and learn about the saints.
7.
Our family are huge fans of the game Scattegories! We were thrilled to find this
Scattergories- Catholic Edition
which challenges all of us to draw upon our knowledge of the Catholic faith and the Scriptures. Makes a great gift for a teen or young adult!
8
.
DIVINITY,The New Catholic Catechism Learning System.
is a super fun way to test your knowledge of the Catholic faith. Our family has enjoyed this game and we have used it in our homeschool co-op as well.
9. Saint Stories For Kids
Ignatius Press' "Life of a Saint" series for young children are the perfect read-alouds for small children and a wonderful way to introduce the saints to your kids. These would make a perfect gift for a godchild, niece or nephew as well as your own children. We have the whole series but our favorites are:
Therese: The Little Flower of Lisieux (Life of a Saint)
and
Francis: The Poor Man of Assisi (Life of a Saint)
10. Catholic Chapter Books
My children have begun to really enjoy mysteries and we have been blessed to find two great series of mysteries that they have delved into with pleasure! Any of these would make great stocking
stuffers for the 8-12 age group.
The book
Sisters of the Last Straw: The Case of the Missing Novice
by author Karen Kelly Boyce, had my 10 year old daughter laughing out loud while she read it. The antics of the Sisters in this wonderful series are engaging, hysterical and wholesome (a win-win-win all around!) I highly recommend it for young girls.
The Father Brown Reader: Stories from Chesterton
are a wonderful compilation of mysteries based on Chesterton's famous character Father Brown. My children have really enjoyed these stories as well!
11. Catholic Saint Videos
My family and I have learned so much and been so inspired by the lives of the saints depicted in CCC's animated videos. These videos set the historical facts of the saints' lives in engaging story lines complete with humor and song. They are extremely well done and appeal to both kids and adults alike. I cannot tell you how many times my husband and I have wiped tears from our eyes watching these alongside our children. I highly recommend the entire series but our personal favorites are:
Juan Diego: Messenger Of Guadalupe
,
Bernadette - The Princess of Lourdes
and
Nicholas: The Boy Who Became Santa
12. Catholic CDs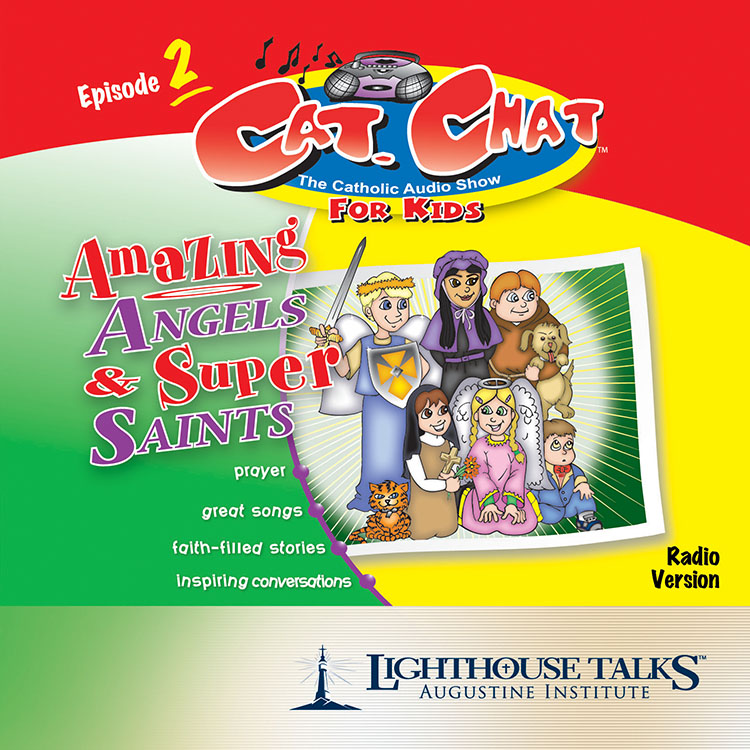 Looking for an inexpensive stocking stuffer that can teach your children about their faith and entertain them on long car rides at the same time? Check out Lighthouse Catholic Media's Cat Chat series of audio CD's for kids. These high-energy, song and skit filled CDs are filled with memorable characters and meaningful messages. Suggested age is 3-11 but my 12 year old still loves them. (CatChat is also available as an .MP3 download.
CatChat CD's have 4 titles to choose from:
Amazing Angels & Super Saints - Episode 1
Amazing Angels & Super Saints - Episode 2
The Mass Comes Alive - Episode 1
The Mass Comes Alive - Episode 2
Read related posts here:
Keeping Christ in Advent: 7 Ways to a Peaceful December
7 Ways to Celebrate Advent With Your Family